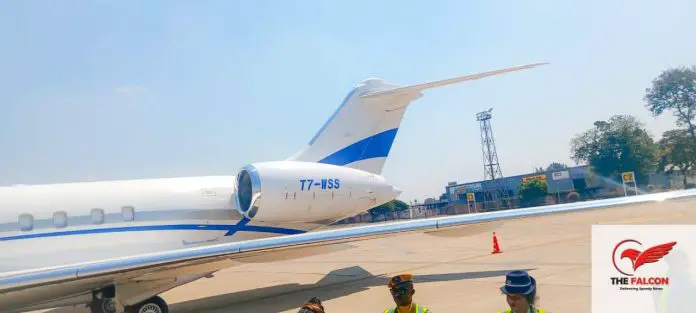 The mystery of the plane that left-Seeking answers,
●…Two chartered private jets, a Bombardier Global Express, BD-T7-700-1A10 (T-WSS) and Bombardier 6000, HB-JLC, arrived in Lusaka on 13th and 14th August 2023…
●….one came from Amman, Jordan and the other came from Geneva, Switzerland….
●….Kenneth Kaunda International Airport has ultra-modern CCTV camera system that covers the perimeters of runways, landing jets, apron, outside car parks and terminals and will likely confirm the details….
Asking uncomfortable questions
The Drug Enforcement Commission Director General Nason Banda, announced that they had seized millions of dollars, guns, and suspected gold in the multi million gold scam that occurred at Kenneth Kaunda International Airport (KKIA).
Mr. Banda also announced that the Commission had seized a foreign private jet plane, a Bombardier Global Express with registration no. T7-WW and a local plane.
We have since established that the details of the plane given by the Director General is totally different from the one journalists were shown at the KKIA apron two days later.
Journalists were shown a Bombardier Global Express,T7-WSS. The T7-WW may actually not exist and there is a possibility that the DEC details could have been as a result of a typo error.
However,the T7-WSS plane can be tracked and its flight path from Jordan-to-Cairo-to-Lusaka has now been established.
The Boambardier Global Express(GLEX) or T7-WSS left Amman, Jordan, at 20:09 and arrived in Cairo, Egypt, at 21:55 UTC on August 12, 2023. It left Cairo to Lusaka and arrived in Lusaka on Sunday 13th August 2023 at 18;15hrs, local time.
The 19-year-old private jet Global Express-BD-700-1A10 , T-WSS is operated by Malta-based, Hyperion Aviation.
The jet is registered in San Marino, a landlocked country and enclave in Italy also known for its offshore and tax haven activities.
DEC said the local plane was a King Air with registration no. B190.
This plane belongs to Zambia Skyways. Zambia Skyways is owned by Mr.Yousuf Zumla who is also Tourism Council of Zambia Chairperson.
On Tuesday, reports and videos emerged that the plane had left, a matter that caused pain and public anxiety.
However, the Minister of Home Affairs Jack Mwiimbu assured the nation on Wednesday that the suspects, the Gold, and the millions of dollars were in law enforcement agencies' custody.
THE SECOND PLANE
However irrefutable flight path information has now emerged that a second plane is also involved and could be operated by the same Executive Hire agency as the T7-WSS.
A Bombardier 6000 GLEX, an ultra long range, high speed corporate jet, took the similar flight path during the same period.
This particular plane now identified by its registration no. HB-JLC, flew from Geneva to Addis Ababa on 13th August 2023. It then flew to Berbera Somalia on 14th August 2023.
The HB-JLC arrived in Lusaka on Monday 14th August 2023 at 17;53.
On Wednesday, 16th August 2023 the plane left Lusaka to Zanzibar at 08;33hrs. This is the day of the swirling rumor and video that the plane that is under investigations had left.
This Bomabrdier Global 6000 aircraft flies under the tail number HB-JLC and is operated by D-Jet (Operated by: Nomad Aviation AG), this is fairly a brand new plane built in 2019 by Bombardier as part of their Global 6000 series.
This Bombardier Global Express HB-JLC is based and operates from Geneva Airport (LSGG).
CONCLUSION
From the above details, it is without doubt that we have two planes that arrived in Lusaka on Sunday 13th August 2023 and Monday, 14th August 2023.
There is a Bombardier Global Express, BD-T7-700-1A10 (T-WSS) and a Bombardier Global 6000, (HB-JLC).
Flight details and search will lead you to operators; Swiss Private Jet, Nomad Aviation and Hyperion Aviation that seem to share similar fleet of planes and the companies are registered in various jurisdictions.
Government has a sacred duty to inform Zambians of the truth because of the scale of this scandal and law enforcement agencies and other persons should not be involved in committing more crimes after the initial crimes by covering up.
Zambia is privileged that it has an ultra modern international airport with CCTV system that should be able to confirm these details.
We ask uncomfortable questions to help establish the truth.