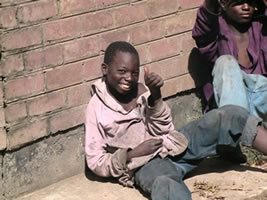 Copperbelt Permanent Secretary Augustine Kasongo has directed the Department of Social Welfare in Kitwe to trace the families of the remaining street kids in Kitwe and ensure that they are taken to school in view of the introduced free education policy.
Mr Kasongo said there should be no excuse for any child to stay out of school when government is providing free education.
In a speech read on his behalf by his deputy Daniel Kamenga, during the launch of the District and Community Mobilization on the roll out of the Children's Code Act No. 2 of 2022, Mr. Kasongo also challenged parents to provide peaceful and conducive environments in homes for kids to grow up from.
He noted that some children are pushed into the streets because of parents and guardians who are abusive and ignorant about the rights of children.
"I am confident that at the end of the meeting today we will have shared the information pertaining to the legal and policy frameworks in Zambia on Children's rights so that we strengthen service delivery, we need to brainstorm what we can do differently in ensuring that the rights of children are protected and promoted," he said.
He stated that the country is currently domesticating the United Nations convention on the rights of child (UNCRC) and the African Charter on the rights and Welfare of the Child.
He said the free education policy introduced by the government is a great milestone in the protection and promotion of children's rights.
And Kitwe District Administrative Officer Mwamba Mulenga said the launch of the children's rights is timely as it will provide the legal framework on the protection and promotion of children's rights.
He said a lot needs to be done in sensitizing people on the rights of children.